Bangalore, the Silicon Valley of India, is a city of colours people and culture. But it is also known for its street food. There are numerous street foods offered by the city. Bangalore is known for its eateries that are affordable plus you will get a variety of stuffed vegetarian and non-vegetarian foods. We'll discuss famous street food in Bangalore. Here are few Bangalore local foods from the streets

Famous Street Food in Bangalore
⦁ Mangalore Buns – This can be traced to Udupi region. Mangalore buns are tender, sweet fluffy and are stuffed with bananas. One can have buns with coconut chutney and sambar. It is one of the yummiest and famous street foods in Bangalore.
⦁ Dal Obbattu – Obbattu originates in the region of Mysore and is a famous street food in Bangalore. It is made up of toor dal, cardamom powder, jaggery rava etc. Dal obbattu is made during festivals like Diwali and Ugadi. It is served with ghee sprinkled on it.
⦁ Bhaji with Filter Kaapi – It's a popular food in Bangalore on a rainy evening. Many food stalls on the road sell these vegetable bhajis deeply fried. To relish, serve with grated carrot and onion pudina chutney.
⦁ Idli, Vada and Dosa – Hot idlis, crispy dosas, and soft vadas are the prime delicious street food from Bangalore. Served best with sambhar and coconut chutney makes it sumptuous. The neer dosa is the essential part of in Karnataka cuisine.
⦁ Vada pav – It is one of the famous street food in Bangalore. Vada pav is a sandwich made from bun-bread stuffed with vada. This is a spicy food is served with fried green chillies and gunpowder chutney. Vada Pav is also available in its non-vegetarian form.
⦁ Kebabs and Rolls – Crunchy rolls and freshly fried kebabs are a yet another street food popular in Bangalore. You can enjoy them in the form of crispy parathas in both vegetarians as well as non-vegetarian form. Plus one cannot afford to miss mutton rolls, vegetable rolls, juicy kebabs, grilled tikka, and chicken roll. If you're obsessed with health, you can get the parathas replaced with roomali roti.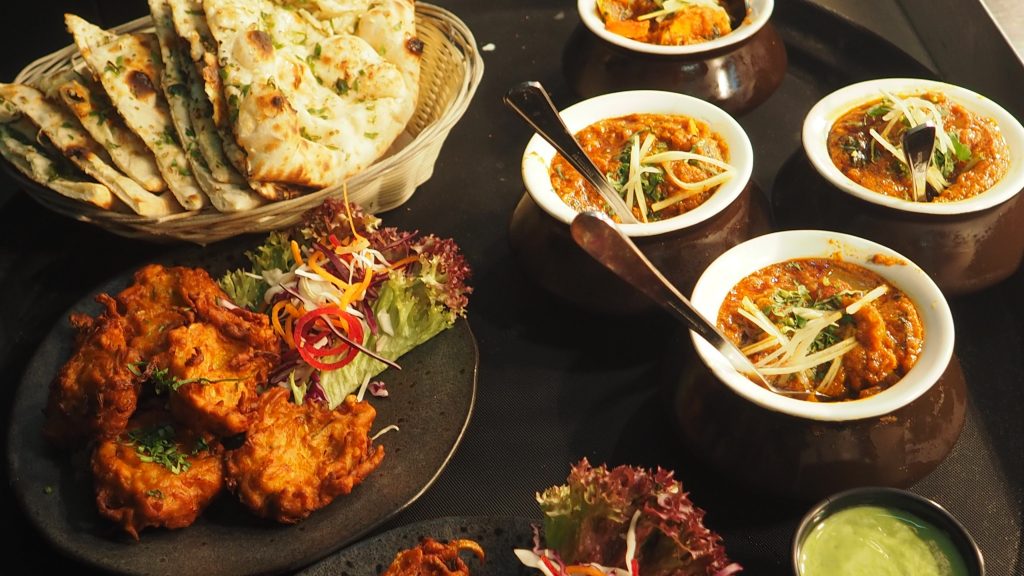 ⦁ Sandwich and Paratha – Sandwiches and parathas are the best options for those who are looking for gratifying hunger pangs as well as yummy taste. If you like to go healthier, you can opt for paratha with gobi, mooli, potato, onion and other spicy stuffings. It is best served with melting butter, green chilly.
⦁ Gobi Manchurian – Gobi Manchurian is a famous street food in Bangalore known for its spicy, tangy and crispy nature. A low-cost food made from cauliflower fried deep and tossed in dark soya sauce.
⦁ Chaat and Pani Puri – Though not native to Bangalore it has turned out to be adapted into the food culture. There are numerous roadside stalls and hotels restaurants serving lip-smacking varieties of khatti-methi Pani Puri and chaat. The fill of chole and potato in Pani Puri and the delicious blend of chips, wafers, bhujia, black salt, curd, and tamarind will make your taste buds pleased.
⦁ Biryani – Biryani is, probably one of the most important recipes in Bangalore, thanks to the growth of cross culture migration originating beyond the city. When it comes to the taste of biryani, it is nothing but extravagant. You will get biryani from most food stalls on the road. The aroma of potatoes, saffron, etc., is great to satiate your belly making biryani a famous street food in Bangalore.
When it comes to eating roadside foods, it is just to make your palate get the best recipe. You cannot afford to go on with a single menu be it at the workplace, or home. Of course, from the health point of view, routine food prepared at home is the best. However, when there is no 'difference', 'change' or a 'variation' or whatsoever the vocabulary, it will make the life filled with monotony to such an extent that you may burn out. Therefore, staying within the limits healthcare, going occasionally for street food is not bad; rather it's good for the body.
Also Read : 7 Long Road Drives Around Bangalore